Media and Titles support credits as a means of providing attribution to the individuals and/or organizations that played a role in creating the content.
Adding Credits to Media and Titles
Assign credits using the "credits" field that appears on the "General" panel of the Media / Title detail view.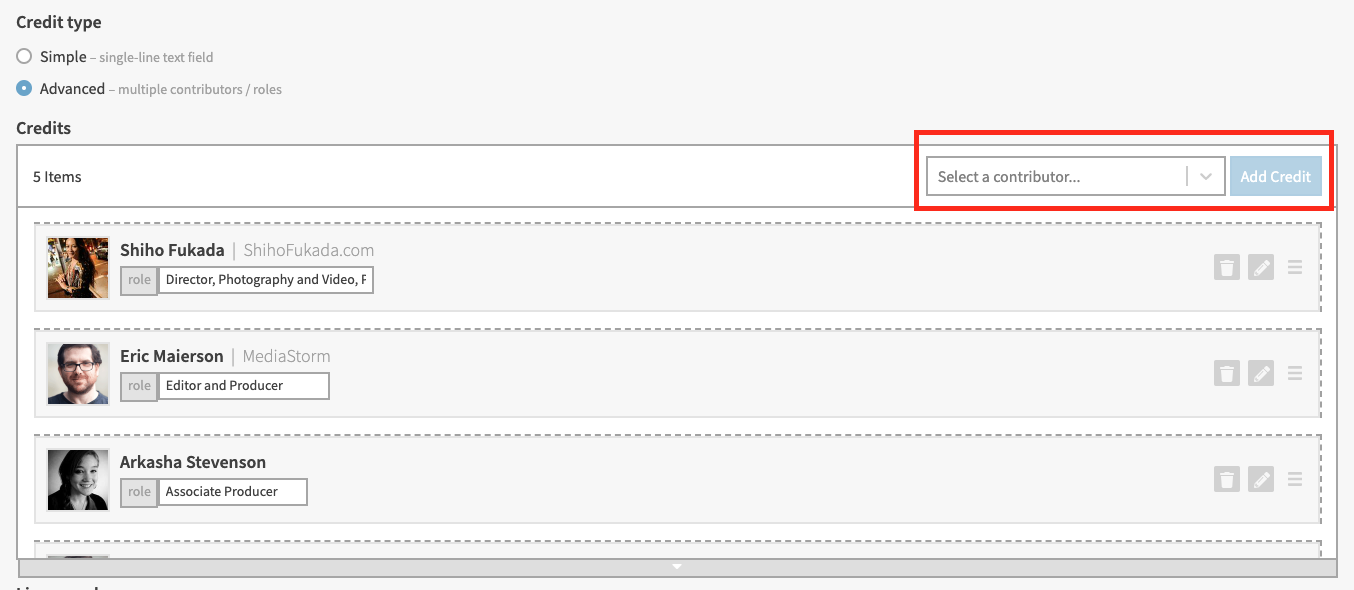 To add credits, open the menu labeled "Select a contributor."
Choose an existing contributor from the list (type a search query to filter the list)
Add a 'Free-Form Text Credit'
OR select "New Contributor"
Click 'Add Credit' once you have made your selection
When creating new Contributors, fill out the appropriate info and make sure to upload a hi res image to the 'Image' field. When complete, click 'Save Changes'.
If you wish to re-organize the list of credits, click and hold onto the 3 line 'stack' icon to move the credit items and change their sort order.
Note: Media objects also support an alternative, simplified credit style that can be edited using a free-form text field. This option is appropriate for items that do not require the extended metadata supported by the "contributor" records. To use this option, set a Media item's "Credit type" field to "Simple."
Manage Contributors
While contributor records can be created or edited directly from the Media / Title detail view, the Platform also provides a dedicated view for managing contributors. To access it, open the main navigation menu in the top-left corner of the Platform interface and select "Manage Contributors."
Here you can find a contributor list view that supports searching and filtering records by various attributes.
Be aware that any changes made to contributor record will impact all Title and Media objects referencing those contributors.