A Cover Title is a visual experience that serves to introduce users to a project (or a section within a project). It may include introductory text, visuals such as images and background video clips, and navigation links to other content.
Cover Title - Grid Layout

Cover Title - Menu Layout
Menu postion set to "Bottom"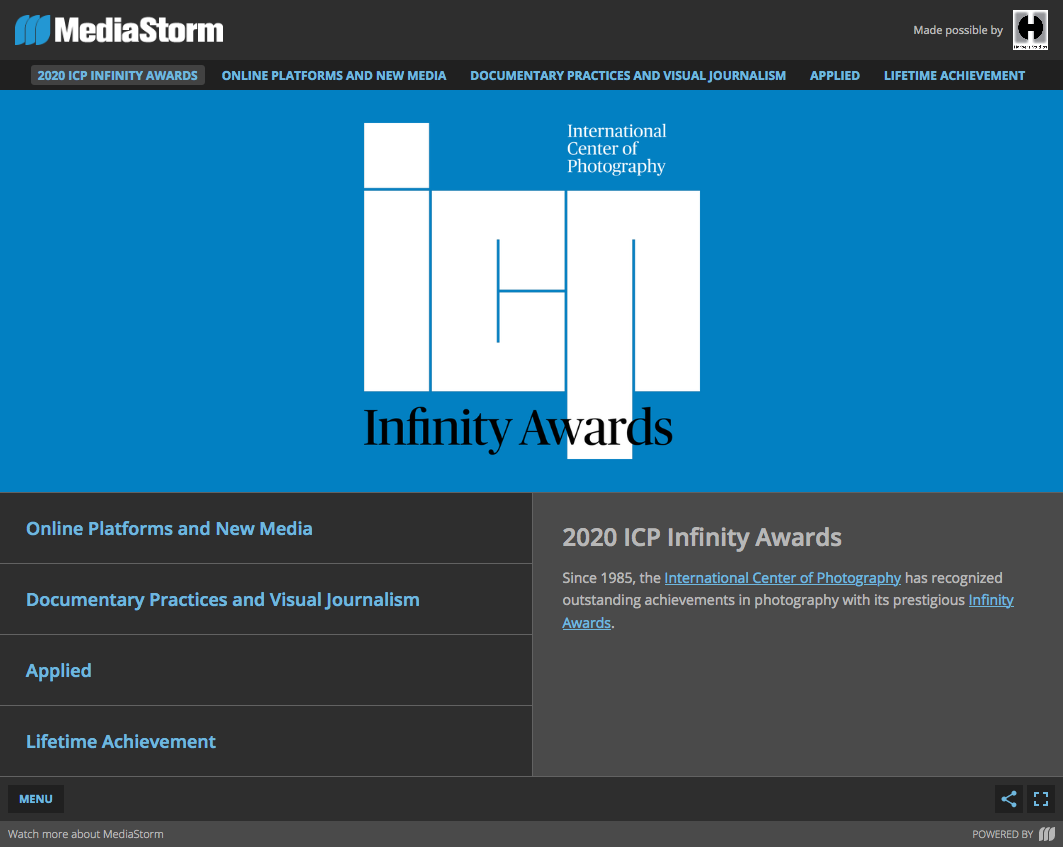 Menu postion set to "Right"
To switch between these options, look in the Options column on the right side of the Platform interface and find the Menu Position options.
Check the box for the option you prefer. Hit the SAVE button.
Cover Title - Splash Layout


Build a Cover
From the Title list view, click the button labeled "New Title." Enter a name in the provided text input, select "Cover" from the list of available types, and click "Create."
The General panel includes fields for basic information about your Title.
The Layout panel allows you to select a layout for the Cover and to configure display options for your chosen layout.
The Items panel allows you to create navigation links to other Titles and/or Media or to external URLs. Note that when a Cover Title is added to a Release, all Title and Media objects linked to the Cover in this way must also appear in that release.
Configure Cover Items
There are two options available for configuring the items that appear on a Cover Title:
Manual - In this mode, you specify each Cover item manually, and explicitly set a Title or Media object for the item to link to. This is the most common method of working with Covers.
Title contents - Alternatively, Cover items may be generated automatically based on the contents of a Playlist or Slideshow Title. This option allows you to create a cover that contains links to the individual items within a Playlist or Slideshow Title.
Set Cover background Video
Click to open the Layout tab and find the Background Video area.
Click the Choose Video button.
Find the video from the list using the Filter field or scrolling through the list. Note: The duration field may be an easy way to find it.
After verifying the video is set as the Background Video, click the SAVE button.
Use the Preview button in the Tabs column to see the video inside the Cover.
To read more about how to create and export a video for use as a Cover Background Video, see this document: Background videos for Cover Titles
Release Preview
To preview a cover title as it would appear when published in a standard Player Release, navigate to the "Preview" panel.