The MediaStorm Timeline is a powerful interactive tool that presents slides of related items or events on an interactive control bar. Timeline items and events are viewed as photo, video or text-based slides that are accessed by interacting with points on a control bar.
A timeline contains the following elements:
Global Controller: navigational tool for displaying slides. The controller is automatically generated when slides are added to the title.
Slide media: Timeline slides can have images, video or just text. Media may have captions and credits.
Slide details: Date, headline and description for a slide.
Make a timeline
Building a timeline begins with a slide. Slides are added to the template in a sequential order in the "SLIDES" view of the timeline template. A timeline slide must have a date assigned to appear on the controller so the first step in adding a slide to a timeline is add a date in the slide details panel.
Graphic: Steps to build a timeline
Select title type
Click "TITLES" and navigate to the titles workspace.
Click "NEW TITLE" title button.
Enter title name and select "Timeline" then "Create".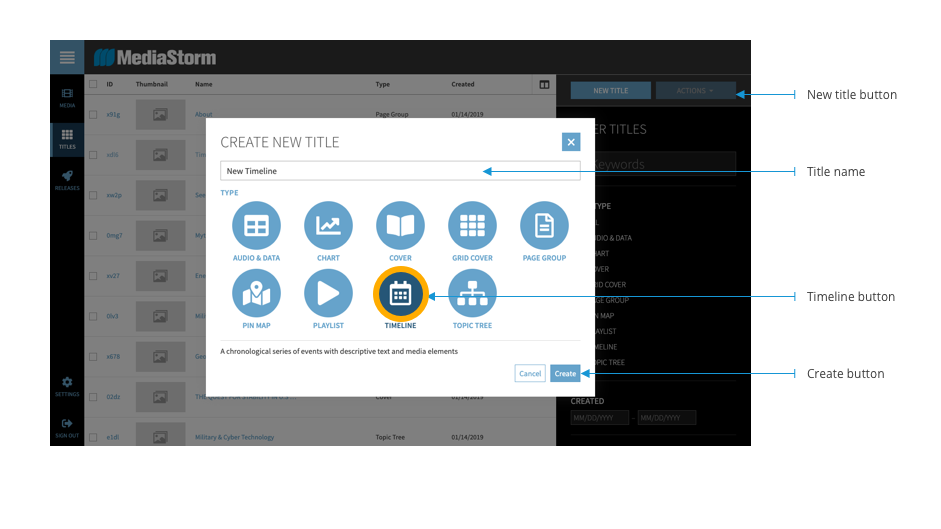 Add content
In the "GENERAL VIEW", add the timeline short and long description.

Open the "SLIDE VIEW" by clicking the "SLIDES" tab.
Click "Add New Slide" to add a new, blank slide to the Timeline.
In the right slide details panel add the following slide information:

Slide date: The date is required to set slide order.
Display date: Enter custom date display text, or leave blank to use the default, auto-formatted date.
Slide headline: This is an optional field.
Slide description: This is an optional field.
Slide media: Click "Add from Media Library" to add an image or video to the slide. Clicking the button will open the media gallery overlay. Select the media asset and then the "ACCEPT" button to add media to a slide.

Continue to add additional slides. New slides will appear in order based on the slide date.
Save
Save your timeline and add it to a release to publish.
Release Preview
To preview a timeline title as it would appear when published in a standard Player Release, navigate to the "Preview" panel.