The playlist title organizes media (audio or video) in an ordered list. Media objects can be further organized into folders, and labels may be added to insert headings or other contextual text in between items.
Player Elements
Player: Displays the currently active video
Playlist: Displays an ordered sequence of media (audio or video), groups, and labels
Platform Workflow
Here are the steps to build a playlist:
Add media to the Media Library.
In the media library, update the media metadata and description.
Select TITLES in the Left Toolbar.
Select the NEW TITLE button.
Select PLAYLIST.
In the GENERAL tab, add the playlist short and long description.
Select the PLAYLIST BUILDER tab.
Select insert MEDIA to add media from the media library.
Select your media.
Click the ACCEPT button.
Groups or labels can be added to organize media objects within a playlist to help delineate areas of the playlist.
Select the IMAGES tab to add preview images to the title.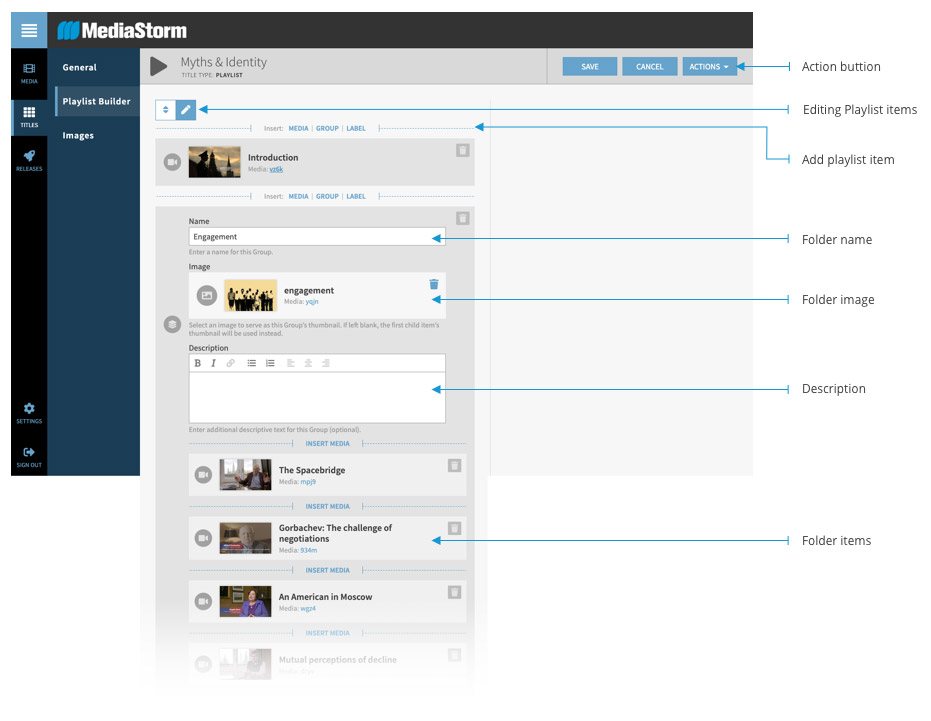 Release Preview
To preview a playlist title as it would appear when published in a standard Player Release, navigate to the "Preview" panel.