Within the MediaStorm platform, a "Media object" is a robust container that wraps an original source file and various other attributes together in a single encapsulated package, which can then be referenced from Titles and Releases. The Media object includes:
Original "source" media: This would commonly be a high-quality master file, but it is also possible for the source to be a reference to an external resource on, for example, Vimeo or YouTube.
Associated metadata: Includes inherent properties of the media itself (duration, dimensions, etc.) as well as user-defined metadata (title, description, credits, tags, etc., defined in further detail below).

Upon ingest, the Platform will attempt to intelligently populate some of these fields by, for example, mapping

EXIF

/

IPTC

data embedded in an image, or retrieving video metadata from Vimeo or YouTube.

Image previews: Presented at different crops and aspect ratios.
Media Library
The Media Library list view provides an overview of all media objects belonging to an organization, in a table layout that exposes certain properties of each object. This view supports search, filtering, and sorting based on multiple attributes. It also allows the user to perform bulk actions on multiple media objects at once.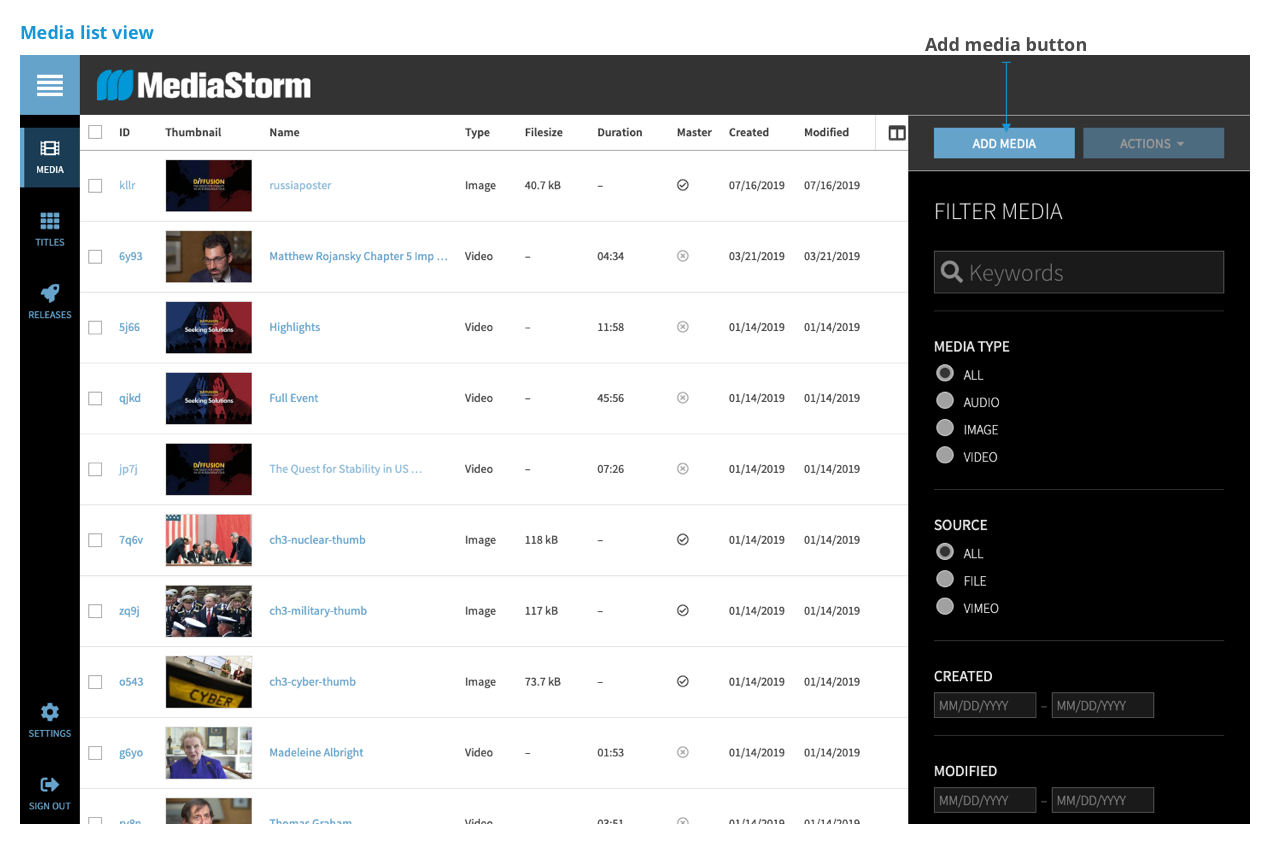 Add Media
To add media to the Media Library, choose the "Add Media" action button in the Right Sidebar, then select an import source from the list of available options:
File Upload: Upload one or more media files from your computer. Drag and drop files onto the outlined target area, or select the "Choose Files" button to choose files using a standard dialog. Once all the desired files have been added to the queue, click "Start Upload" to initiate the import process. Files accepted with this upload option are:

Images (in .jpg, .png or .gif format). Please note: Best practice when uploading images is to always upload the highest resolution version of the images you have on hand.
Audio files (Currently only in .mp3 format) are accepted.

Web URL:

Add a media file from a URL. Images (in .jpg, .png or .gif format) and audio files (in .mp3 format) are accepted. Note: to use this feature, the URL must point directly to the media file itself.

Vimeo: Import videos from Vimeo.com. You may import a public video by entering its URL or Vimeo ID in the provided field. Alternatively, if you have connected your Vimeo account to the MediaStorm Platform (in the Organization Settings area), you may choose one or more videos from your Vimeo account. Connecting your Vimeo account enables import of your private videos. Note that we will also import metadata from Vimeo.
YouTube:

Import videos from YouTube. You may import a public video by entering its URL or YouTube ID in the provided field. Click the "bulk import" mode to input multiple URLs/IDs at once (each URL or ID should be on a separate line). Video metadata is retrieved from YouTube on import.
Step 1: Add Media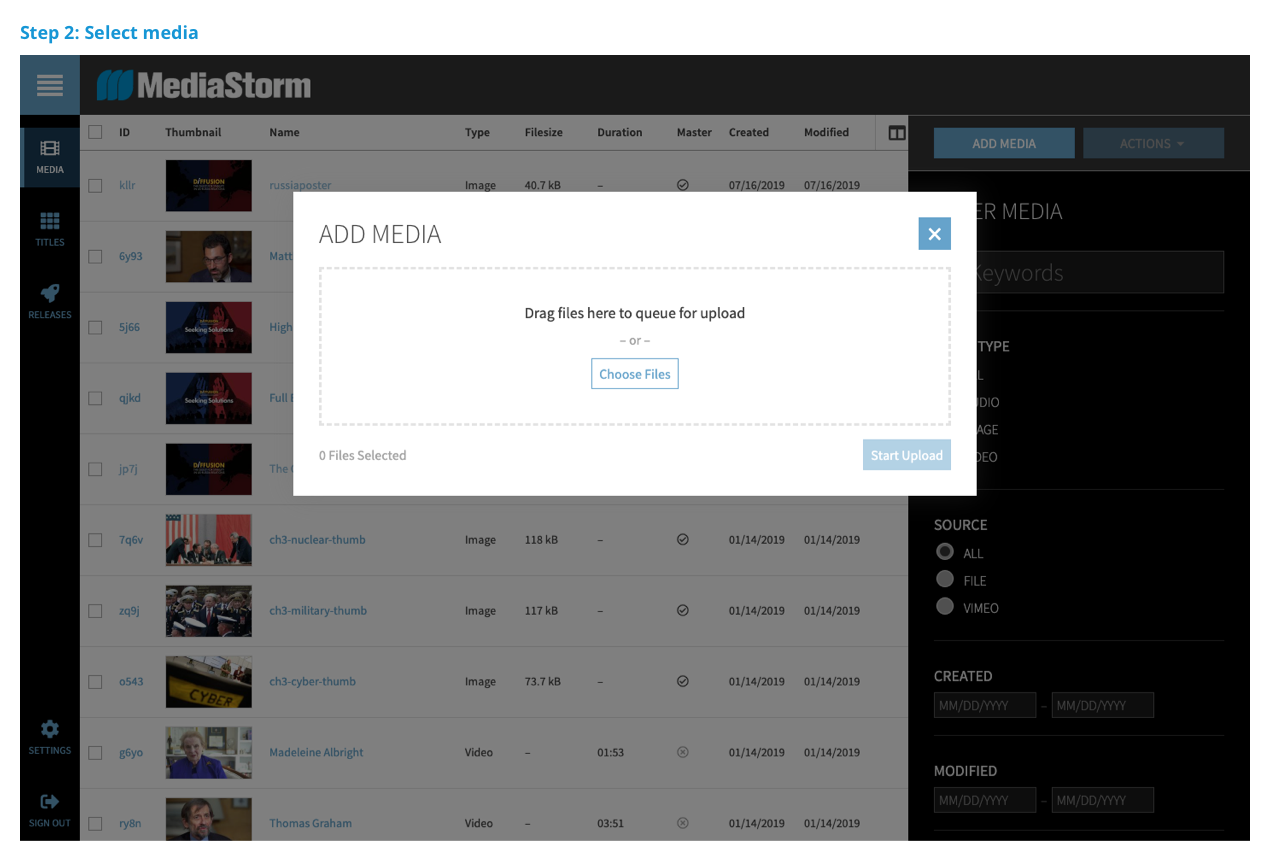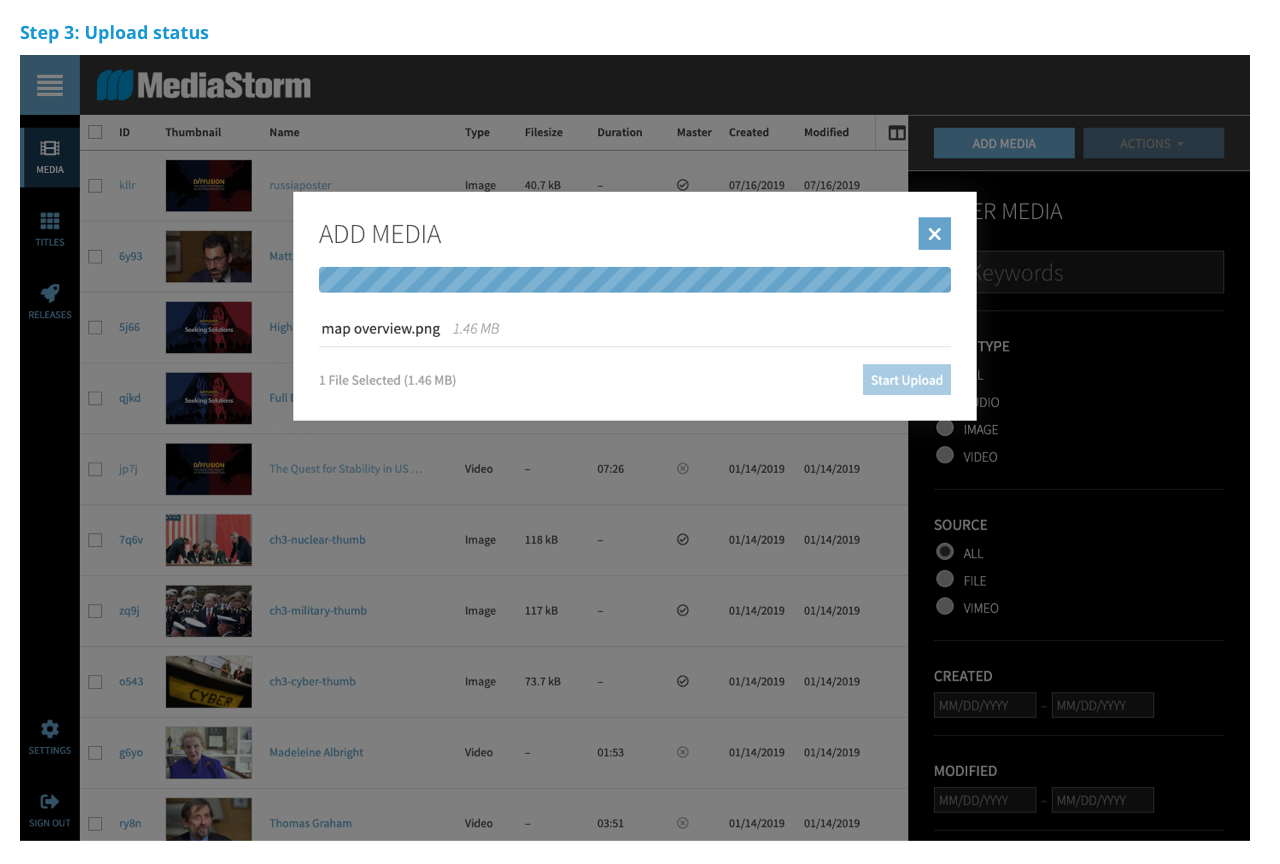 When the import process completes, a summary of the import results is displayed, indicating the number of items added and highlighting any failures or warnings.
Image size recommendations
Prior to uploading, we recommend sizing image files to between 4,000 - 6,000 pixels along the longer dimension. Storing high-resolution images ensures the greatest degree of compatibility with current and future output formats supported by the Platform.
When images are published as part of a Release, the Platform will automatically generate optimized versions at various resolutions, as appropriate for the particular Release destination.
Image Previews
Each media object has multiple associated "preview" or thumbnail images, using different aspect ratios. A standard set of aspect ratios needed for each media object is predefined in the Platform's settings. Upon ingest, an image is automatically created at each of these specified ratios.
When using media objects from Vimeo or YouTube, the preview image is generated from the poster frame configured on those platforms. If the poster frame is updated in Vimeo/YouTube, the media must be re-imported to receive the updated preview image.
A master file is created when media is added to the media library and then used to generate preview images. A set of preview images will be automatically created from the master file. Image previews represent different aspect ratio views of the master file and can be overwritten.
Override image previews
It is possible for a user to override any of the auto-generated versions by uploading a replacement image. In this case, the system will enforce that the user-uploaded image conforms to the correct aspect ratio for the specific preview being replaced.
To use a custom preview image:
Click the edit icon in the preview thumbnail
Upload a custom image
Click "accept" to close the window and activate the custom preview image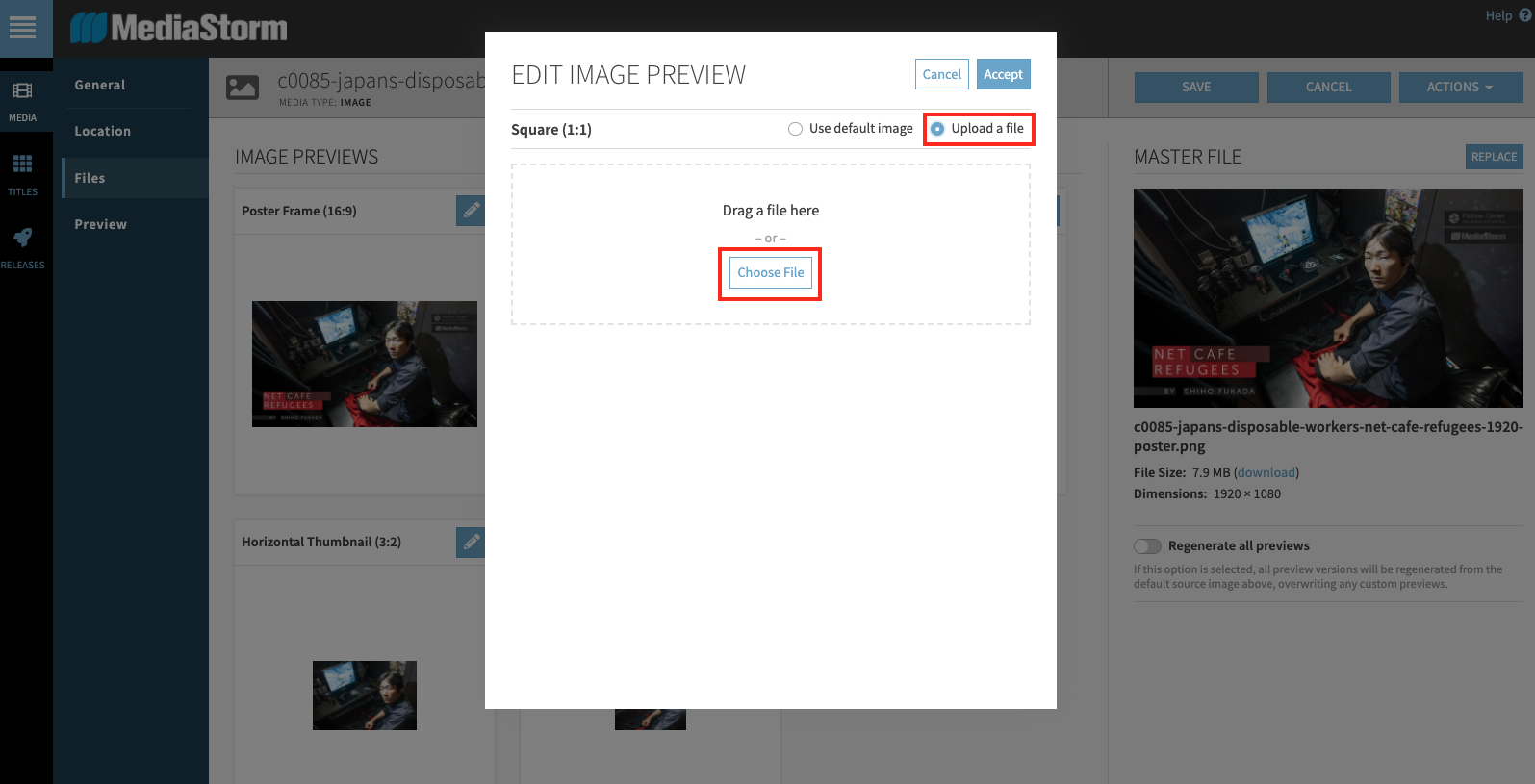 To use a custom crop on a preview image:
Click the edit icon on the preview thumbnail
Drag the cropping frame to the desired crop
Click "accept" to close the window and activate the custom crop
Transcripts
Adding transcript information is as easy as copy/pasting the information to the text field.
The MediaStorm platform syncs the captions/subtitles you have setup within your Vimeo account for that video. The "refresh" button syncs up the available track list with the latest data from Vimeo. The checkboxes control which track, if any, is on by default when the player loads. Currently this feature is only available for Vimeo videos. More functionality for YouTube is forthcoming.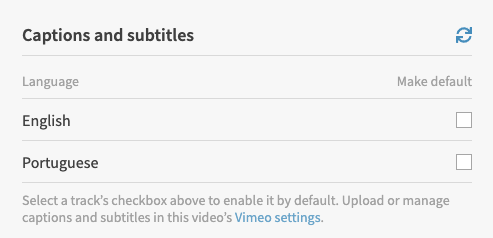 Release Preview
To preview a media object as it would appear when published in a standard Player Release, navigate to the "Preview" panel.